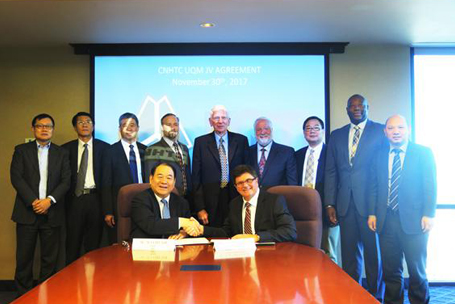 November 26, 2017 Mr. Ma Chunji, Chairman of and party secretary of China National Heavy Duty Truck Group, visited the United States of America for investigation and exchange. The delegation investigated American PROTERRA Company and LIGHTNING SYSTEM Company and also attended the meeting of the board of directors of UQM company, the general meeting of shareholders and the staff meeting. And Mr. Ma Chunji signed agreement for New energy vehicle with Mr. Joseph J Roy, the president of UQM.
This meeting makes a great contribution for the further new energy industry deep cooperation between the companies in the United States and China National Heavy Duty Truck Group, especially the signing of the joint venture agreement, marking the world's leading motor, motor controllers and other new energy vehicles critical assembly parts and components will be officially manufactured by CNHTC in China . It is also laying a solid foundation for CNHTC's leading position in domestic new energy commercial vehicles in the near future.
Wang ShanBo, executive director of CNHTC, Yu Tianming, director of the technical center, Song Chengzhan, general manager of the legal department, and others accompanied to visit.